Our Qualifications
Our clients rely on us to provide them with quality information. Our commitment in the area of asset allocation relative to income distribution planning has helped people like you better understand if they are able to retire. Our process allows you a complete view of your financial picture so you can see for yourself if you should retire.
We can help you build an understandable plan to reach your financial goals.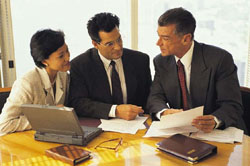 There is no guarantee that a diversified portfolio will outperform a non-diversified portfolio in any given market environment. No investment strategy, such as asset allocation, can guarantee a profit or protect against loss in periods of declining values.